Asunder
Home
|
Downloads
|
Screenshots
|
Credits
|
Translations
|
Donate
|
Bugs
|
Contact
Description
Asunder is a graphical Audio CD ripper and encoder for Linux. You can use it to save tracks from an Audio CD as any of WAV, MP3, OGG, FLAC, Opus, WavPack, Musepack, AAC, and Monkey's Audio files.
Asunder is translatable! Please see the translations page if you're interested in seeing Asunder in your language.
Please file bugs in my Bugzilla or use the contact form to email me directly.
Features
Can save audio tracks as WAV, MP3, Ogg Vorbis, FLAC, Opus, Wavpack, Musepack, AAC, and Monkey's audio files
Uses CDDB to name and tag each track
Creates M3U playlists
Can encode to multiple formats in one session
Simultaneous rip and encode
Allows for each track to be by a different artist
Does not require a specific desktop environment
Screenshot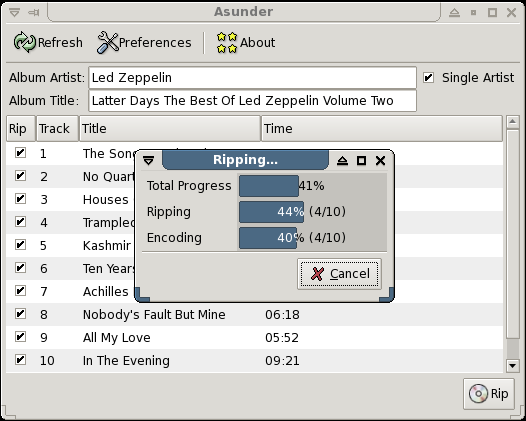 Dependencies
Linux
GTK 2.4 or greater
Libcddb 0.9.5 or greater
LAME (optional for MP3 support)
Vorbis-Tools (optional for Ogg Vorbis support)
FLAC (optional for FLAC support)
Opus (optional for Opus support)
WavPack (optional for WavPack support)
mpcenc (optional for Musepack support)
Fraunhofer FDK AAC (optional for AAC support)
mac (optional for Monkey's Audio support)
The Name
From the Oxford Advanced Learner's Dictionary:
asunder
adv literary [Language: Old English] to be torn violently apart